---
$207 Billion Asset Manager Robeco to Grow ESG in Asia, Grow Investment Team in Singapore
23rd July 2021 | Hong Kong
Robeco, the global asset manager headquartered in Netherlands with $207 billion AUM, has announced plans to grow ESG capabilities (Environment, Social & Governance) in Asia and ESG investment team in Singapore.  Robeco will appoint 3 sustainability specialists in Asia, as part of Robeco's Sustainability Investing Centre of Expertise with more than 35 dedicated portfolio managers, to provide localized ESG expertise across the region.   As of March 2021, 90% of Robeco's $207 billion Assets under Management are ESG-integrated and 96% of fund assets are Article 8 or 9 based on Sustainable Finance Disclosure Regulation (SFDR) definitions.  (AUM ~ Assets under Management )
" $207 Billion Asset Manager Robeco to Grow ESG in Asia, Grow Investment Team in Singapore "
- Article continues below - Web links may be disabled on mobile for security. Please click on desktop.
Robeco Sustainable Investments, Since 1995
Robeco has over 25 years of experience sustainable investing, introducing its first sustainable equity strategy in 1995 and launching an Asian sustainable equity strategy in 2020.  Robeco was also among the first to launch strategies that apply Sustainable Development Goals (SDGs) as well as climate fixed income strategies which help to address climate-related risks.  As of March 2021, 90% of Robeco's $207 billion Assets under Management are ESG-integrated and 96% of fund assets are Article 8 or 9 based on Sustainable Finance Disclosure Regulation (SFDR) definitions. 
Robeco offers 3 types of strategies: Sustainability inside, Sustainability focused and Impact investing.
Robeco plans to scale up existing ESG education and training activities in Singapore. Robeco has launched e-learning modules under Robeco Essentials since October 2018 and has worked with clients, research institutes and institutes of higher learning to bridge the knowledge gap on sustainable investing in the country. Robeco will continue to share its expertise in sustainable investing, engaging with companies and partners across topics such as SDGs and climate investing to contribute as a valuable player to the sustainability ecosystem in Singapore. 
Nayan Patel, Chief Executive Officer, Robeco Singapore:
"Expanding our investment and ESG capabilities in Singapore moves us towards the next phase of growth following five years of successful operations here. With sound financial infrastructure and regulatory support, Singapore is strategically important for us as a gateway to engage with clients in the region. We are delighted to bring our global expertise in sustainable investing to Asia, working closely with our clients and partners to navigate the increasingly exciting but complex field of ESG.
Whether it is analyzing ESG data, integrating climate change considerations or maximizing shareholders' value through active ownership, Robeco has deep knowledge to help investors in Asia meet their sustainable investing objectives. With local specialists to anchor on-the-ground initiatives, combined with our extensive global experience, we expect to capture even more growth opportunities in ESG and become a leader in sustainable investing in Singapore. Our Singapore expansion will also contribute to Robeco's ambition to achieve net-zero emissions across all assets by 2050."
Robeco in Asia-Pacific Since 2005, Singapore in 2016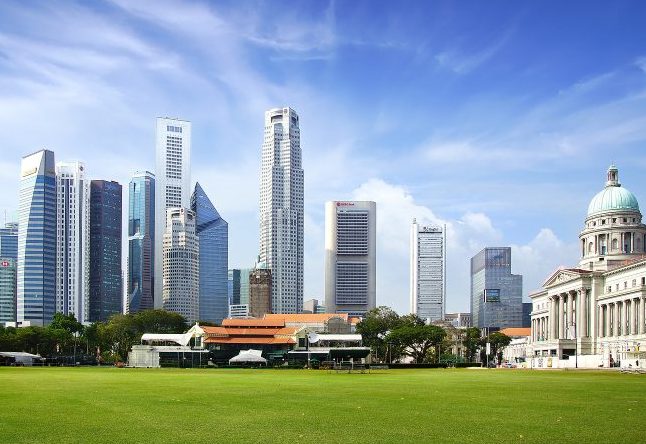 Robeco opened its Singapore office in 2016, establishing its regional fixed income hub in Asia as an extension of its global fixed income team. In addition to growing ESG expertise, Robeco looks to strengthen existing fixed income capabilities in Singapore with two new fixed income research and investment professionals. 
Robeco has had a presence in Asia Pacific since 2005. It has grown its footprint in the region significantly since then, and now has offices in Hong Kong, Shanghai, Singapore, Sydney, Melbourne and Tokyo. Robeco's Asia Pacific equities investment team is based in Hong Kong and the Shanghai office provides on-the-ground Chinese A-share research to Robeco investment teams globally. 
Related:
---
About Robeco
Robeco is a pure-play international asset manager founded in 1929, with headquarters in Rotterdam, the Netherlands, and 17 offices worldwide. A global leader in sustainable investing since 1995, its unique integration of sustainable as well as fundamental and quantitative research enables the company to offer institutional and private investors an extensive selection of active investment strategies, for a broad range of asset classes. As of 30 December 2020, Robeco had EUR 176 billion in assets under management, of which EUR 160 billion is committed to ESG integration. Robeco is a subsidiary of ORIX Corporation Europe N.V.
Managing $20 million to $3 billion. Investing $3 million to $300 million.
For Investment Managers, Hedge Funds, Boutique Funds, Private Equity, Venture Capital, Professional Investors, Family Offices, Private Bankers & Advisors, sign up today. Subscribe to Caproasia and receive the latest news, data, insights & reports, events & programs daily at 2 pm.
Join Events & Find Services
Join Investments, Private Wealth, Family Office events in Hong Kong, Singapore, Asia-wide. Find hard-to-find $3 million to $300 million financial & investment services at The Financial Centre | TFC. Find financial, investment, private wealth, family office, real estate, luxury investments, citizenship, law firms & more.  List hard-to-find financial & private wealth services. Have a product launch? Promote a product or service? List your service at The Financial Centre | TFC. Join interviews & editorial and be featured on Caproasia.com or join Investments, Private Wealth, Family Office events. Contact us at
[email protected]
or
[email protected]
Caproasia.com
| The leading source of data, research, information & resource for financial professionals, investment managers, professional investors, family offices & advisors to institutions, billionaires, UHNWs & HNWs. Covering capital markets, investments and private wealth in Asia. How do you invest $3 million to $300 million? How do you manage $20 million to $3 billion of assets?
Quick Links
2021 Data Release
2020 List of Private Banks in Hong Kong
2020 List of Private Banks in Singapore
2020 Top 10 Largest Family Office
2020 Top 10 Largest Multi-Family Offices
2020 Report: Hong Kong Private Banks & Asset Mgmt - $4.49 Trillion
2020 Report: Singapore Asset Mgmt - $3.48 Trillion AUM
For Investors | Professionals | Executives
Latest data, reports, insights, news, events & programs Everyday at 2 pm Direct to your inbox Save 2 to 8 hours per week. Organised for success
Register Below
For CEOs, Heads, Senior Management, Market Heads, Desk Heads, Financial Professionals, Investment Managers, Asset Managers, Fund Managers, Hedge Funds, Boutique Funds, Analysts, Advisors, Wealth Managers, Private Bankers, Family Offices, Investment Bankers, Private Equity, Institutional Investors, Professional Investors
Get Ahead in 60 Seconds. Join 10,000 +
Save 2 to 8 hours weekly. Organised for Success.
Sign Up / Register
Web links may be disabled on mobile for security. Please click on desktop.



---
Caproasia Users
Manage $20 million to $3 billion of assets
Invest $3 million to $300 million
Advise institutions, billionaires, UHNWs & HNWs
Caproasia Platforms | 10,000 Investors & Advisors
Monthly Roundtable & Networking
Family Office Programs
The 2023 Investment Day
28th March 2023 - Hong Kong
4th April 2023 - Singapore
April 2023 - Virtual
6th June 2023 - Hong Kong
13th June 2023 - Singapore
Sept 2023 - Hong Kong
Oct 2023 - Singapore
Oct 2023 - Hong Kong
Visit: The Investment Day | Register: Click here
Caproasia Summits
Contact Us
For Enquiries, Membership
[email protected]
,
[email protected]
For Listing, Subscription
[email protected]
,
[email protected]
For Press Release, send to:
[email protected]
For Events & Webinars
[email protected]
For Media Kit, Advertising, Sponsorships, Partnerships
[email protected]
For Research, Data, Surveys, Reports
[email protected]
For General Enquiries
[email protected]
---
Caproasia | Driving the future of Asia a financial information technology co. since 2014
---