---
Richard Branson Virgin Orbit Goes Public on NASDAQ in $3.2 Billion SPAC Merger with NextGen Acquisition
27th August 2021 | Hong Kong
Virgin Orbit, the responsive launch and space solutions company spinoff from Virgin Galactic founded by billionaire Richard Branson, is going public on NASDAQ in a $3.2 billion SPAC merger with NextGen Acquisition Corp.  The combined company will receive $483 million in cash proceeds, including $383 million of cash held in the trust account of NextGen and a $100 million fully committed PIPE (Private Investment in Public Equity), valuing the company at an enterprise value of $3.2 billion.  The combined company will retain Virgin Orbit name and is expected to be listed on Nasdaq under the ticker symbol "VORB."  Virgin Orbit existing shareholders are Virgin Group, Mubadala Investment (Manages $243.4 billion for Government of Abu Dhabi) and management and employees.  Existing Virgin Orbit shareholders are expected to retain ownership of approximately 85% of the combined company, NextGen's public shareholders to own 10% of the combined company, PIPE investors and SPAC sponsor to own 3% and 2%, respectively.  On 11th July 2021, founder of Virgin Airlines Sir Richard Branson had went on a spaceflight on Virgin Galactic Unity spaceplane on a 1.5 hours flight.  Read More: Billionaires Richard Branson and Jeff Bezos with $216 Billion Combined Wealth Starts Spaceflight Tourism
" Richard Branson Virgin Orbit Goes Public on NASDAQ in $3.2 Billion SPAC Merger with NextGen Acquisition "
- Article continues below -
SPAC (Special Purpose Acquisition Company) is also popularly referred to as a blank cheque company, that allows the listed company without any existing businesses to raise capital through an IPO (initial public offering), and thereafter use the capital to invest into companies.
Virgin Orbit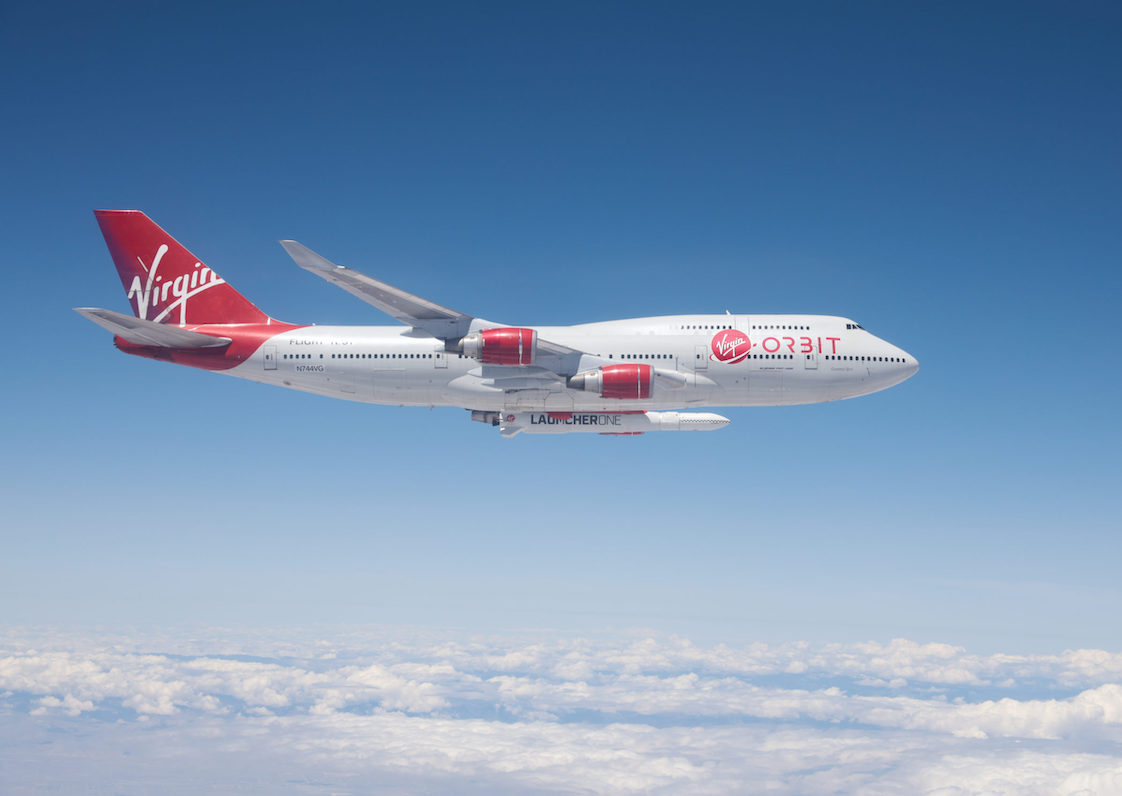 Virgin Orbit has developed a proprietary air-launch technology, coupled with world-class manufacturing infrastructure and a proven team to transform space access for a diverse and global customer base. Since its founding in 2017, Virgin Orbit has developed the world's first air-launched, liquid-fueled launch system.
The Company's most recent successful launch – conducted on June 30, 2021 – precisely delivered satellites for commercial and national security customers from the US and abroad directly into their target orbits. In January 2021, the Company successfully launched satellites for NASA.
On 11th July 2021, founder of Virgin Airlines Sir Richard Branson had went on a spaceflight on Virgin Galactic Unity spaceplane on a 1.5 hours flight.  Read More: Billionaires Richard Branson and Jeff Bezos with $216 Billion Combined Wealth Starts Spaceflight Tourism
Related:
Sir Richard Branson, the Founder of Virgin Orbit:
"The Virgin Orbit team has proven its ability to create new ideas, new approaches, and new capabilities. They are building on the incredible foundation of their rapid transition into successful commercial launch operations to find new ways to solve big problems that uplift our customers' amazing ideas, again and again. I'm very excited we are taking Virgin Orbit public, with the support of our partners at NextGen and our other wonderful investors. It's another milestone for empowering all of those working today to build space technology that will positively change the world."
Dan Hart, the CEO of Virgin Orbit:
"We've built Virgin Orbit in order to change the business of satellite launch and to open space for everyone, globally. Whether it's engaging with world leaders at the G7 Summit or seeing the smiles on the faces of our international community of customers after our most recent launch, our mission gets more exciting with every step we take. Our success in launch has driven the business forward, and now we expect this investment will enable us to build on our R&D efforts and our incredible team. We are driving innovation with world-class design and advanced manufacturing capabilities, our unrivaled mobility of launch, and our exciting space solutions services."
George Mattson and Greg Summe, the Co-Founders of NextGen:
"We are delighted that our search for a great company, with strong organic growth in a large and growing market, disruptive technology and a world class management team has led to our partnership with Virgin Orbit. The space economy is developing rapidly and Virgin Orbit is well positioned to benefit through its ability to competitively launch at any time, from any place on Earth, to any orbit and inclination. This is a truly unique and differentiating capability. We have worked with Sir Richard and the Virgin Group on various projects, including Virgin Galactic, over the last few years and admire their vision and commitment as they have built Virgin Orbit from an idea to a commercial reality. We look forward to leveraging our industry and financial experience, along with our public company leadership and governance experience to help Virgin Orbit deliver the next chapter of its exciting journey as a public company."
Abdulla Shadid, Executive Director, Growth & M&A at Mubadala:
"Virgin Orbit is a game changer for the small satellite launch and space solutions industry and its listing is expected to be yet another milestone in its continuing success story. Our investment in Virgin Orbit since its inception is a reflection of our confidence in the company's ability to carve out a leading role in this sector. It also complements the broad objectives of the UAE's national space strategy, as reflected in the recent successful "Hope" satellite mission to Mars."
---
About Virgin Orbit
Virgin Orbit builds and operates one of the most flexible and responsive satellite launchers ever invented: LauncherOne, a dedicated launch service for commercial and government-built small satellites. LauncherOne rockets are designed and manufactured in Long Beach, California, and are air-launched from a modified 747-400 carrier aircraft, Cosmic Girl, which allows Virgin Orbit to operate from locations all over the world in order to best serve each customer's needs.
In just a span of four years since its creation in 2017, Virgin Orbit has developed a proprietary air-launch technology, coupled with world-class manufacturing infrastructure and a proven team to transform space access for a diverse and global customer base.
About NextGen Acquisition Corp
NextGen Acquisition Corp. II is a blank check company whose business purpose is to effect a merger, share exchange, asset acquisition, share purchase, reorganization or similar business combination with one or more businesses. NextGen is led by George Mattson, a former Partner at Goldman, Sachs & Co., and Gregory Summe, former Chairman and CEO of Perkin Elmer and Vice Chairman of the Carlyle Group. NextGen is listed on Nasdaq under the ticker symbol "NGCA." For more information, please visit www.nextgenacq.com.
About Virgin Group
The Virgin Group is a leading international investment group and one of the world's most recognized and respected brands. Created in 1970 with the birth of Virgin Records, the Virgin Group has gone on to invest in, incubate, and grow a number of successful businesses in the private and public markets. The Virgin Group has expanded into many sectors since its inception, driven by Sir Richard's ambition to create the world's most irresistible brand. These sectors include travel & leisure, financial services, health & wellness, technology & internet-enabled, music & entertainment, media & mobile, space, and renewable energy. The Virgin Group has built significant expertise across these sectors, which it has also successfully applied to investments in non-Virgin branded businesses in which it has seen the opportunity to generate attractive financial returns. https://www.virgin.com.
About Mubadala
Mubadala Investment Company manages a global portfolio aimed at generating sustainable financial returns for the Government of Abu Dhabi.  Mubadala's $243.4 billion (AED 894 billion) portfolio spans six continents with interests in multiple sectors and asset classes. Mubadala leverages deep sectoral expertise and long-standing partnerships to drive sustainable growth and profit, while supporting the continued diversification and global integration of the economy of the United Arab Emirates.  Headquartered in Abu Dhabi, Mubadala has offices in London, Rio de Janeiro, Moscow, New York, San Francisco and Beijing. For more information about Mubadala Investment Company, please visit: www.mubadala.com.
Managing $20 million to $3 billion. Investing $3 million to $300 million.
For Investment Managers, Hedge Funds, Boutique Funds, Private Equity, Venture Capital, Professional Investors, Family Offices, Private Bankers & Advisors, sign up today. Subscribe to Caproasia and receive the latest news, data, insights & reports, events & programs daily at 2 pm.
Join Events & Find Services
Join Investments, Private Wealth, Family Office events in Hong Kong, Singapore, Asia-wide. Find hard-to-find $3 million to $300 million financial & investment services at The Financial Centre | TFC. Find financial, investment, private wealth, family office, real estate, luxury investments, citizenship, law firms & more.  List hard-to-find financial & private wealth services. Have a product launch? Promote a product or service? List your service at The Financial Centre | TFC. Join interviews & editorial and be featured on Caproasia.com or join Investments, Private Wealth, Family Office events. Contact us at
[email protected]
or
[email protected]
Caproasia.com
| The leading source of data, research, information & resource for financial professionals, investment managers, professional investors, family offices & advisors to institutions, billionaires, UHNWs & HNWs. Covering capital markets, investments and private wealth in Asia. How do you invest $3 million to $300 million? How do you manage $20 million to $3 billion of assets?
Quick Links
2021 Data Release
2020 List of Private Banks in Hong Kong
2020 List of Private Banks in Singapore
2020 Top 10 Largest Family Office
2020 Top 10 Largest Multi-Family Offices
2020 Report: Hong Kong Private Banks & Asset Mgmt - $4.49 Trillion
2020 Report: Singapore Asset Mgmt - $3.48 Trillion AUM
For Investors | Professionals | Executives
Latest data, reports, insights, news, events & programs Everyday at 2 pm Direct to your inbox Save 2 to 8 hours per week. Organised for success
Register Below
For CEOs, Heads, Senior Management, Market Heads, Desk Heads, Financial Professionals, Investment Managers, Asset Managers, Fund Managers, Hedge Funds, Boutique Funds, Analysts, Advisors, Wealth Managers, Private Bankers, Family Offices, Investment Bankers, Private Equity, Institutional Investors, Professional Investors
Get Ahead in 60 Seconds. Join 10,000 +
Save 2 to 8 hours weekly. Organised for Success.
Sign Up / Register
Web links may be disabled on mobile for security. Please click on desktop.



---
Caproasia Users
Manage $20 million to $3 billion of assets
Invest $3 million to $300 million
Advise institutions, billionaires, UHNWs & HNWs
Caproasia Platforms | 10,000 Investors & Advisors
Monthly Roundtable & Networking
Family Office Programs
The 2023 Investment Day
28th March 2023 - Hong Kong
4th April 2023 - Singapore
April 2023 - Virtual
6th June 2023 - Hong Kong
13th June 2023 - Singapore
Sept 2023 - Hong Kong
Oct 2023 - Singapore
Oct 2023 - Hong Kong
Visit: The Investment Day | Register: Click here
Caproasia Summits
Contact Us
For Enquiries, Membership
[email protected]
,
[email protected]
For Listing, Subscription
[email protected]
,
[email protected]
For Press Release, send to:
[email protected]
For Events & Webinars
[email protected]
For Media Kit, Advertising, Sponsorships, Partnerships
[email protected]
For Research, Data, Surveys, Reports
[email protected]
For General Enquiries
[email protected]
---
Caproasia | Driving the future of Asia a financial information technology co. since 2014
---