---
China Electric Car Maker Nio Targeted by United States Short-Seller Report for Overstating Revenue & Profits, Nio Responds to Grizzly Research
1st July 2022 | Hong Kong
China electric car-maker Nio had been targeted by a United States short-seller report for overstating revenue & profits, with Nio responding to the Grizzly Research for their inaccurate reporting. Grizzly Research: "We Believe NIO Plays Valeant-esque Accounting Games to Inflate Revenue and Boost Net Income Margins to Meet Targets." Nio: "The report is without merit and contains numerous errors, unsupported speculations and misleading conclusions and interpretations regarding information relating to the Company. The Company's board of directors, including the audit committee, is reviewing the allegations and considering the appropriate course of action to protect the interests of all shareholders. The Company will make additional disclosures in due course consistent with the requirements of applicable rules and regulations of the Securities and Exchange Commission, the New York Stock Exchange, The Stock Exchange of Hong Kong Limited (the "SEHK") and the Singapore Exchange Securities Trading Limited (the "SGX-ST"). The Company emphasizes its continued and unwavering commitment to maintaining high standards of corporate governance and internal control, as well as transparent and timely disclosure in compliance with applicable rules and regulations."
" China Electric Car Maker Nio Targeted by United States Short-Seller Report for Overstating Revenue & Profits, Nio Responds to Grizzly Research "
About NIO Inc.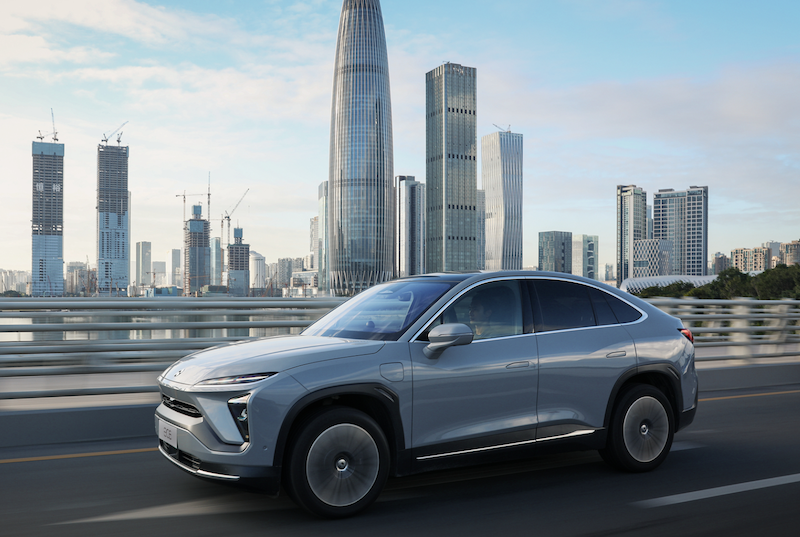 NIO Inc. is a pioneer and a leading company in the premium smart electric vehicle market. Founded in November 2014, NIO's mission is to shape a joyful lifestyle. NIO aims to build a community starting with smart electric vehicles to share joy and grow together with users. NIO designs, develops, jointly manufactures and sells premium smart electric vehicles, driving innovations in next-generation technologies in autonomous driving, digital technologies, electric powertrains and batteries. NIO differentiates itself through its continuous technological breakthroughs and innovations, such as its industry-leading battery swapping technologies, Battery as a Service, or BaaS, as well as its proprietary autonomous driving technologies and Autonomous Driving as a Service, or ADaaS. NIO launched the ES8, a seven-seater flagship premium smart electric SUV in December 2017, and began deliveries of the ES8 in June 2018 and its variant, the six-seater ES8, in March 2019. NIO launched the ES6, a five-seater high-performance premium smart electric SUV, in December 2018, and began deliveries of the ES6 in June 2019. NIO launched the EC6, a five-seater premium smart electric coupe SUV, in December 2019, and began deliveries of the EC6 in September 2020. NIO launched the ET7, a flagship premium smart electric sedan, in January 2021, and began deliveries of the ET7 in March 2022. NIO launched the ET5, a mid-size premium smart electric sedan, in December 2021. NIO launched the ES7, a mid-large five-seater premium smart electric SUV, in June 2022.



---
For CEOs, Heads, Senior Management, Market Heads, Desk Heads, Financial Professionals, Investment Managers, Asset Managers, Fund Managers, Hedge Funds, Boutique Funds, Analysts, Advisors, Wealth Managers, Private Bankers, Family Offices, Investment Bankers, Private Equity, Institutional Investors, Professional Investors
Get Ahead in 60 Seconds. Join 10,000 +
Sign Up / Contact Us
Caproasia | Driving the future of Asia a financial information technology co. since 2014
Web links may be disabled on mobile for security. Please click on desktop.






---
Caproasia.com
| The leading financial website for investment managers, professional investors, UHNW & HNW investors and advisors to institutions, billionaires, UHNWs & HNWs.
Covering capital markets, investments and private wealth in Asia. How do you invest $3 million to $300 million? How do you manage $20 million to $3 billion of assets?
Caproasia
is a financial information technology co. founded in 2014. We have 4 businesses in Media, Information, Services and Technology. We created 3 solutions: Membership, Events & Platforms to drive investment decisions in Asia through information, services, technology & people, that impact economies, societies & people. Our Mission: Driving the future of Asia For 2022 Investment Day: mail@caproasia.com For Family Office, Professional Investor, HNW Investor Events: mail@caproasia.com For Membership, Events, Networking, Roundtable, Summits: mail@caproasia.com For Investment Relations Network: mail@caproasia.com For Platforms, Media Kit, Advertising, Campaigns, Partnerships: angel@caproasia.com For press release: press@caproasia.com For all other enquiries: mail@caproasia.com
2022 Upcoming Events
Join Events in Hong Kong & Singapore. Investments, Alternatives, Private MarketsHedge Funds, Private Equity, Private Wealth, Family Office & more. View:
2022 Upcoming Events
| Register
here
Join as Delegate, Speaker, Moderator, Host, Sponsor & Partner Contact: events@caproasia.com or mail@caproasia.com
---
Caproasia Users
Manage $20 million to $3 billion of assets
Invest $3 million to $300 million
Advise institutions, billionaires, UHNWs & HNWs
Learn More | Caproasia Users
Caproasia Platforms | Join 10,000 Investors & Advisors
Monthly Networking & Roundtables:
Membership | Join a Powerful Network:
Family Office Programs:
Caproasia Summits:
Special Coverage