---
Hong Kong Luxury Property No. 15 Shouson Sells House for Record $110 Million in 2022, Hong Kong Richest Li Ka-Shing Resident of Shouson Hill
1st July 2022 | Hong Kong
Hong Kong luxury property No. 15 Shouson has sold a house for a record $110 million (HKD 870 million) in 2022, in one of the most prestigious neighbourhood in Hong Kong with Hong Kong richest man Li Ka-Shing a resident of Shouson Hill. The house sold in No. 15 Shouson, is House No. 7 with 8,032 sq. ft and 6 en-suites. The house comes with a private outdoor area including a 3,427 sq.ft private garden, a 2,091 sq.ft roof, and a private swimming pool. The announcement was jointly made by co-developers: Emperor International Holdings, C C Land Holdings, Mingfa Group and CSI Properties. Alex Yeung, Vice Chairman of Emperor International: "Hong Kong's economy is gradually returning to normal, the accumulated purchasing power in the property market is releasing, transactions of high-valued residential property are actively recorded. No.15 Shouson is situated at traditional luxury residential area in the Southern District of Hong Kong island where is in short supply of whole new detached houses and houses over 10,000 sq.ft. It is encouraging to see the positive feedback from the market."
" Hong Kong Luxury Property No. 15 Shouson Sells House for Record $110 Million in 2022 "
No.15 Shouson, Hong Kong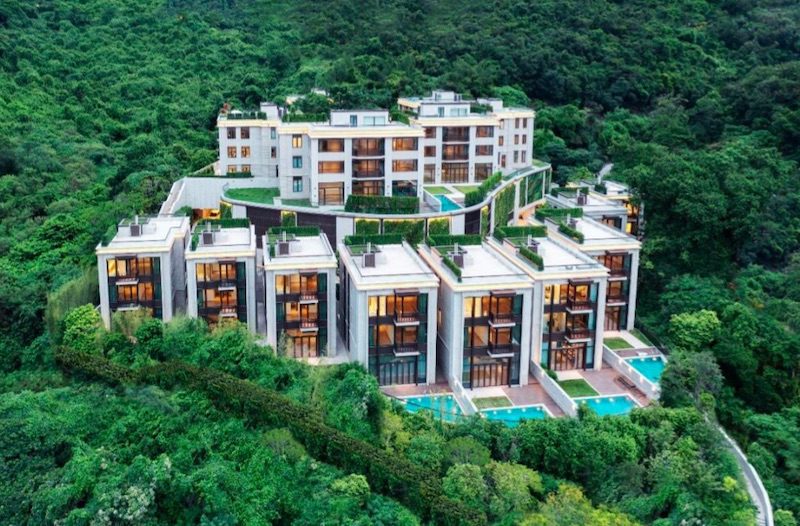 No.15 Shouson offers 15 detached houses, each with a saleable area ranging from 3,727 to 12,073 square feet, and a layout from 4 to 6 ensuites. The development is born with gifts and is blessed with the picturesque green ridges formed by Mount Cameron, Bennet's Hill, Brick Hill, Violet Hill, and Mount Nicholson which create endless foliage and a high level of privacy.
Shouson Hill has long been a superior residential area in Hong Kong, where business and political leaders, tycoons, celebrities, and scholars dwell, and is adjacent to prestigious clubhouses such as Hong Kong Golf Club and Aberdeen Marina Club, first-class entertainment is within reach. The development offers a quick connection to the core city area and daily convenience with a complete set of facilities nearby,bringing vibrancy and serenity at the same time. For more details about "No.15 Shouson", please visit the website: www.15shouson.com



---
For CEOs, Heads, Senior Management, Market Heads, Desk Heads, Financial Professionals, Investment Managers, Asset Managers, Fund Managers, Hedge Funds, Boutique Funds, Analysts, Advisors, Wealth Managers, Private Bankers, Family Offices, Investment Bankers, Private Equity, Institutional Investors, Professional Investors
Get Ahead in 60 Seconds. Join 10,000 +
Sign Up / Contact Us
Caproasia | Driving the future of Asia a financial information technology co. since 2014
Web links may be disabled on mobile for security. Please click on desktop.






---
Caproasia.com
| The leading financial website for investment managers, professional investors, UHNW & HNW investors and advisors to institutions, billionaires, UHNWs & HNWs.
Covering capital markets, investments and private wealth in Asia. How do you invest $3 million to $300 million? How do you manage $20 million to $3 billion of assets?
Caproasia
is a financial information technology co. founded in 2014. We have 4 businesses in Media, Information, Services and Technology. We created 3 solutions: Membership, Events & Platforms to drive investment decisions in Asia through information, services, technology & people, that impact economies, societies & people. Our Mission: Driving the future of Asia For 2022 Investment Day: mail@caproasia.com For Family Office, Professional Investor, HNW Investor Events: mail@caproasia.com For Membership, Events, Networking, Roundtable, Summits: mail@caproasia.com For Investment Relations Network: mail@caproasia.com For Platforms, Media Kit, Advertising, Campaigns, Partnerships: angel@caproasia.com For press release: press@caproasia.com For all other enquiries: mail@caproasia.com
2022 Upcoming Events
Join Events in Hong Kong & Singapore. Investments, Alternatives, Private MarketsHedge Funds, Private Equity, Private Wealth, Family Office & more. View:
2022 Upcoming Events
| Register
here
Join as Delegate, Speaker, Moderator, Host, Sponsor & Partner Contact: events@caproasia.com or mail@caproasia.com
---
Caproasia Users
Manage $20 million to $3 billion of assets
Invest $3 million to $300 million
Advise institutions, billionaires, UHNWs & HNWs
Learn More | Caproasia Users
Caproasia Platforms | Join 10,000 Investors & Advisors
Monthly Networking & Roundtables:
Membership | Join a Powerful Network:
Family Office Programs:
Caproasia Summits:
Special Coverage