Caproasia.com | The leading source of data, research, information & resource for investment managers, professional investors, UHNW & HNW investors, and advisors to institutions, billionaires, UHNWs & HNWs. Covering capital markets, investments and private wealth in Asia. How do you invest $3 million to $300 million? How do you manage $20 million to $3 billion of assets? Caproasia -
Learn more
This site is for accredited investors, professional investors, investment managers and financial professionals only. You should have assets around $3 million to $300 million or managing $20 million to $3 billion.


---
World Health Organisation Dr Tedros: Reported Deaths from COVID19 Lowest Since March 2020, The End is in Sight
15th September | Hong Kong
World Health Organisation Director-General Dr Tedros Adhanom Ghebreyesus provided an update on COVID19 in a media briefing on 14th September 2022, with reported deaths from COVID19 the lowest since March 2020, and also made the remark – "We are not there yet, but the end is in sight". World Health Organisation Director-General Dr Tedros on Twitter: "Last week, the number of weekly reported deaths from #COVID19 was the lowest since March 2020. We have never been in a better position to end the pandemic. We are not there yet, but the end is in sight."
" Reported Deaths from COVID19 Lowest Since March 2020, The End is in Sight "
World Health Organisation (WHO) Dr Tedros Adhanom Ghebreyesus Twitter:
LIVE: Media briefing on #COVID19 and other global health issues with @DrTedros https://t.co/Meah5QJlmR

— World Health Organization (WHO) (@WHO) September 14, 2022
Dr Tedros Adhanom Ghebreyesus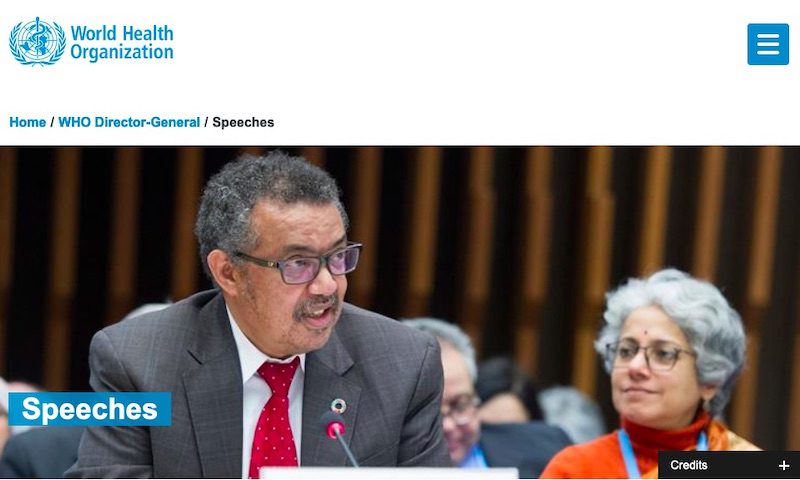 Dr Tedros Adhanom Ghebreyesus was elected WHO Director-General for a five-year term by WHO Member States at the Seventieth World Health Assembly in May 2017. In doing so, he was the first WHO Director-General elected from among multiple candidates by the World Health Assembly, and was the first person from the WHO African Region to head the world's leading public health agency.
Born in the Eritrean city of Asmara, Dr Tedros graduated from the University of Asmara with a Bachelor of Biology, before earning a Master of Science (MSc) in Immunology of Infectious Diseases from the University of London, a Doctorate of Philosophy (PhD) in Community Health from the University of Nottingham and an Honorary Fellowship from the London School of Hygiene and Tropical Medicine.  Following his studies, Dr Tedros returned to Ethiopia to support the delivery of health services, first working as a field-level malariologist, before heading a regional health service and later serving in Ethiopia's federal government for over a decade as Minister of Health and Minister of Foreign Affairs.
As Minister of Health from 2005 to 2012, he led a comprehensive reform of the country's health system, built on the foundation of universal health coverage and provision of services to all people, even in the most remote areas.  Under his leadership, Ethiopia expanded its health infrastructure, developed innovative health financing mechanisms, and expanded its health workforce. A major component of reforms he drove was the creation of a primary health care extension programme that deployed 40 000 female health workers throughout the country. A significant result was an approximate 60% reduction in child and maternal mortality compared to 2000 levels.  As Minister of Foreign Affairs from 2012 to 2016, he elevated health as a political issue nationally, regionally and globally. In this role, he led efforts to negotiate the Addis Ababa Action Agenda, in which 193 countries committed to the financing necessary to achieve the Sustainable Development Goals.
Prior to his election as Director-General of WHO, Dr Tedros held many leadership positions in global health, including as Chair of the Global Fund to Fight AIDS, Tuberculosis, and Malaria, Chair of the Roll Back Malaria Partnership, and Co-chair of the Partnership for Maternal, Newborn and Child Health Board.
---
---
For CEOs, Heads, Senior Management, Market Heads, Desk Heads, Financial Professionals, Investment Managers, Asset Managers, Fund Managers, Hedge Funds, Boutique Funds, Analysts, Advisors, Wealth Managers, Private Bankers, Family Offices, Investment Bankers, Private Equity, Institutional Investors, Professional Investors
Get Ahead in 60 Seconds. Join 10,000 +
Save 2 to 8 hours weekly. Organised for Success.
Subscribe / Sign Up / Contact Us
Caproasia | Driving the future of Asia a financial information technology co. since 2014
Web links may be disabled on mobile for security. Please click on desktop.






---