---
Hong Kong SFC Commits to Become a Carbon-Neutral Organisation Before 2050 in Line with Hong Kong Climate Action Plan 2050, Interim Target of Reducing 50% of Carbon Emissions by 2030
28th April 2023 | Hong Kong
Hong Kong Securities & Futures Commission (SFC) has announced its commitment to become a carbon-neutral organisation before 2050 (in line with Hong Kong Climate Action Plan 2050), and has set an interim target of reducing 50% of carbon emissions by 2030. Hong Kong SFC: "The SFC recently engaged an external consultant to conduct a carbon footprint assessment which included identifying and quantifying its own Scope 1, 2, and 3 emissions (Note 2). From this baseline, the SFC will seek to reduce its emissions as far as practicable by targeting their key sources including electricity consumption, investments and purchased goods and services. The SFC is implementing a series of carbon reduction measures. They include engaging with our asset managers on decarbonising the SFC's investment portfolio, and working with our landlord on electricity and waste management and our suppliers in identifying low carbon alternatives."
" Hong Kong SFC Commits to Become a Carbon-Neutral Organisation Before 2050 in Line with Hong Kong Climate Action Plan 2050, Interim Target of Reducing 50% of Carbon Emissions by 2030 "
- Article continues below - Web links may be disabled on mobile for security. Please click on desktop.
Tim Lui, Hong Kong SFC Chairman: "Tackling climate change is a long-term task which requires collective action. In addition to making its own commitment to carbon neutrality, the SFC plays an active role in the development of a robust regulatory framework to support greener, more sustainable financial markets in Hong Kong and the Mainland." 
Julia Leung, Hong Kong SFC CEO:"We are committed to making periodic disclosures on the status of our carbon reduction efforts, including the progress towards meeting our climate targets, in alignment with the TCFD recommendations. Through transparency and accountability, we hope the SFC's carbon neutrality commitment and ongoing disclosures will help show the way for businesses of all kinds to contribute to the global effort to combat climate change."
Hong Kong SFC Commits to Become a Carbon-Neutral Organisation Before 2050 in Line with Hong Kong Climate Action Plan 2050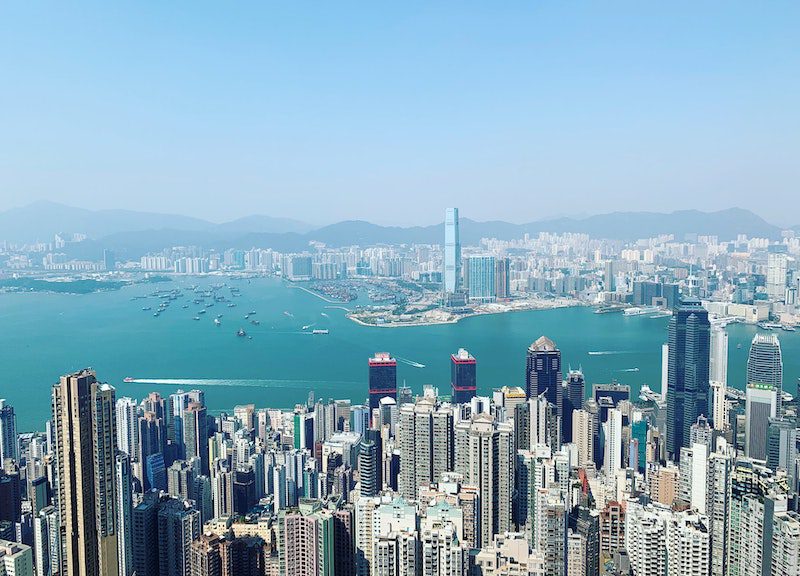 27th April 2023 – The SFC recently engaged an external consultant to conduct a carbon footprint assessment which included identifying and quantifying its own Scope 1, 2, and 3 emissions (Note 2). From this baseline, the SFC will seek to reduce its emissions as far as practicable by targeting their key sources including electricity consumption, investments and purchased goods and services.
The SFC is implementing a series of carbon reduction measures. They include engaging with our asset managers on decarbonising the SFC's investment portfolio, and working with our landlord on electricity and waste management and our suppliers in identifying low carbon alternatives.
Notes:
1.   Published in October 2021, Hong Kong's Climate Action Plan 2050 sets out the vision of Zero-carbon Emissions
Liveable City
Sustainable Development and outlines strategies and targets for combating climate change and achieving carbon neutrality.
2.   Based on the available data, the consultant computed the SFC's Scope 1, 2 and 3 emissions, as defined under the Greenhouse Gas Protocol, across four financial years (2018-19 to 2021-22).  In line with the consultant's recommendations, the SFC will adopt the financial year 2018-19 as the base year for its carbon neutrality commitment for all categories of emissions except investments, and 2021-22 for investments.
The SFC's total baseline emissions were 108,244.1 tonnes of carbon dioxide equivalent (tCO2e), comprising: (i) scope 1 (fuel) emissions: 14.1 tCO2e; (ii) scope 2 (electricity) emissions: 3,270.0 tCO2e; (iii) scope 3 (investments) emissions: 95,024.3 tCO2e; and (iv) scope 3 (air travel, electricity transmission and distribution, hotel accommodations, purchased goods and services, car rentals and waste) emissions: 9,935.7 tCO2e.
The emissions figures and the SFC's baseline may be adjusted depending on further validation and verification of the emissions boundary setting and computation methodologies used.
3.   The Task Force on Climate-related Financial Disclosures (TCFD) is a task force set up by the Financial Stability Board to improve and increase reporting of climate-related financial information. The Final Recommendations of the TCFD were issued in June 2017.
Managing $20 million to $3 billion. Investing $3 million to $300 million.
For Investment Managers, Hedge Funds, Boutique Funds, Private Equity, Venture Capital, Professional Investors, Family Offices, Private Bankers & Advisors, sign up today. Subscribe to Caproasia and receive the latest news, data, insights & reports, events & programs daily at 2 pm.
Join Events & Find Services
Join Investments, Private Wealth, Family Office events in Hong Kong, Singapore, Asia-wide. Find hard-to-find $3 million to $300 million financial & investment services at The Financial Centre | TFC. Find financial, investment, private wealth, family office, real estate, luxury investments, citizenship, law firms & more.  List hard-to-find financial & private wealth services. Have a product launch? Promote a product or service? List your service at The Financial Centre | TFC. Join interviews & editorial and be featured on Caproasia.com or join Investments, Private Wealth, Family Office events. Contact us at
[email protected]
or
[email protected]
Caproasia.com
| The leading source of data, research, information & resource for financial professionals, investment managers, professional investors, family offices & advisors to institutions, billionaires, UHNWs & HNWs. Covering capital markets, investments and private wealth in Asia. How do you invest $3 million to $300 million? How do you manage $20 million to $3 billion of assets?
Quick Links
2021 Data Release
2020 List of Private Banks in Hong Kong
2020 List of Private Banks in Singapore
2020 Top 10 Largest Family Office
2020 Top 10 Largest Multi-Family Offices
2020 Report: Hong Kong Private Banks & Asset Mgmt - $4.49 Trillion
2020 Report: Singapore Asset Mgmt - $3.48 Trillion AUM
For Investors | Professionals | Executives
Latest data, reports, insights, news, events & programs Everyday at 2 pm Direct to your inbox Save 2 to 8 hours per week. Organised for success
Register Below
For CEOs, Heads, Senior Management, Market Heads, Desk Heads, Financial Professionals, Investment Managers, Asset Managers, Fund Managers, Hedge Funds, Boutique Funds, Analysts, Advisors, Wealth Managers, Private Bankers, Family Offices, Investment Bankers, Private Equity, Institutional Investors, Professional Investors
Get Ahead in 60 Seconds. Join 10,000 +
Save 2 to 8 hours weekly. Organised for Success.
Sign Up / Register
Web links may be disabled on mobile for security. Please click on desktop.



---
Caproasia Users
Manage $20 million to $3 billion of assets
Invest $3 million to $300 million
Advise institutions, billionaires, UHNWs & HNWs
Caproasia Platforms | 10,000 Investors & Advisors
Monthly Roundtable & Networking
Family Office Programs
The 2023 Investment Day
28th March 2023 - Hong Kong
4th April 2023 - Singapore
April 2023 - Virtual
6th June 2023 - Hong Kong
13th June 2023 - Singapore
Sept 2023 - Hong Kong
Oct 2023 - Singapore
Oct 2023 - Hong Kong
Visit: The Investment Day | Register: Click here
Caproasia Summits
Contact Us
For Enquiries, Membership
[email protected]
,
[email protected]
For Listing, Subscription
[email protected]
,
[email protected]
For Press Release, send to:
[email protected]
For Events & Webinars
[email protected]
For Media Kit, Advertising, Sponsorships, Partnerships
[email protected]
For Research, Data, Surveys, Reports
[email protected]
For General Enquiries
[email protected]
---
Caproasia | Driving the future of Asia a financial information technology co. since 2014
---