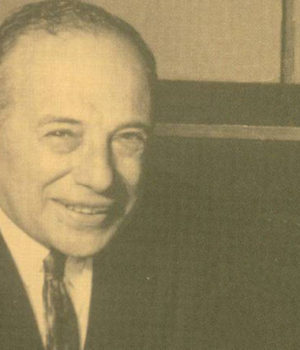 Who is Benjamin Graham?
Benjamin Graham is a Professional Investor, Fund Manager, Professor and Author. He is famously known as the father of value investing.
He was born in London on 8th May 1894 and went to New York the next year.  He graduated from Columbia University in 1914 and joined Wall Street firm Newburger, Henderson & Loeb as a messenger.  In 1920, he became a partner of the firm.  In 1926, he started an investment partnership with Jerome Newman till 1956.
Why is he impressive?
As the father of value investing, his investment philosophy is detailed in his two famous books: "The Intelligent Investor" and "Securities Analysis."  Today, many great fund managers, investors and professionals follow his teachings.
Billionaire investor Warren Buffett enrolled in Columbia Business School when he knew Benjamin Graham was teaching there.  His famous students include William J. Ruane, Irving Kahn and Walter J. Schloss, Charlie Munger, Philip Fisher, Peter Lynch, John Templeton, Mohnish Pabrai, Witney Tilson, Prem Watsa, Lauren Templeton, Jerome Chazen, Joel Greenblatt.
His Graham-Newman investment partnership produces an average annual return of 17% from 1926 to 1956.  His students such as Warren Buffet and Peter Lynch also produce stunning investment performances.
Why should we know him?
His teachings and influence on investment philosophies is remarkable.  Value Investing or Fundamental Analysis are the most used principle in making investment and financial decisions.
The two books he written: The Intelligent Investor in 1949 and Securities Analysis in 1934 are the most influential and must read book for all investment professionals.  You will never go through college or university without your finance professionals not using the books as references.
What did he do when he was in Graham-Newman investment partnership?
He was reported to have his personal wealth wiped out during the 1929 stock market crashed.  In 1934, the crisis prompted him to co-write Securities Analysis with David L. Dodd while lecturing at Columbia Business School.
Nevertheless, the firm produced 17% annual average returns for 30 years.

What is he doing now?
He passed away on September 21, 1976.  He left behind great students, two books and a lasting investment philosophy.
Keynotes
~ Warren Buffet named his son Howard Graham Buffet after Benjamin Graham
~ And Irving Kahn named his son Thomas Graham Kahn
Professor Benjamin Graham lecturing at Columbia Business School (28 seconds onwards)
---
Are you a CEO, Entrepreneur, UHNW, HNW or Professional Investor searching for $3 million to $300 million financial services? Find corporate banks, private banks, loans, capital and more at The Financial Centre | TFC. Register here for private access.
Spending millions and months searching for $3 million to $300 million clients. Finding clients just got easier. Let CEOs & Entrepreneurs and UHNWs & HNWs find you in seconds. Learn more
Managing, investing and advising millions & billions of assets in Asia? Join more than 10,000 ++ leading financial professionals at Caproasia.com | Become a Caproasia user here or sign up for Newsletter here and join 6,000 ++ leading financial professionals.
Caproasia.com is the leading platform for information, data, research and resource for the financial industry in Asia. Collectively, they manage more than $20 trillion assets in Asia in Investments, Fund Management, Asset Management, Private Banking, Wealth Management, Multi-Family Office, Family Office, Private Equity and Hedge Funds.
---