---
The Insider: Exclusive Insights into the Global Economic and Market Outlook for 2017 by Vanguard
On 11th January 2017, Vanguard Group, the world's 2nd largest investment manager, managing more than $3.9 trillion assets (as of November 2016) released the global economic and market outlook for 2017.
Dr Qian Wang, Managing Director and Chief Economist for Asia-Pacific of Vanguard Investment Strategy Group was in Singapore to provide an exclusive insight into what may eventuate in 2017.
---
2017 Economic and Market Outlook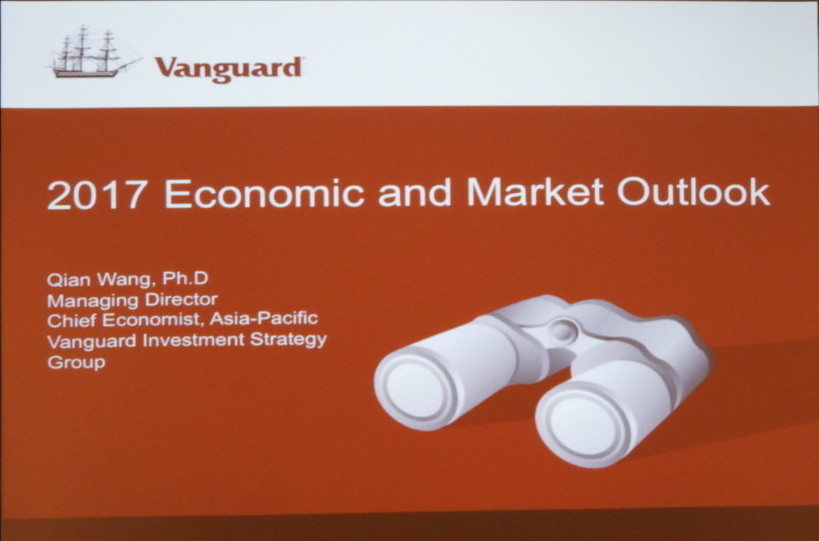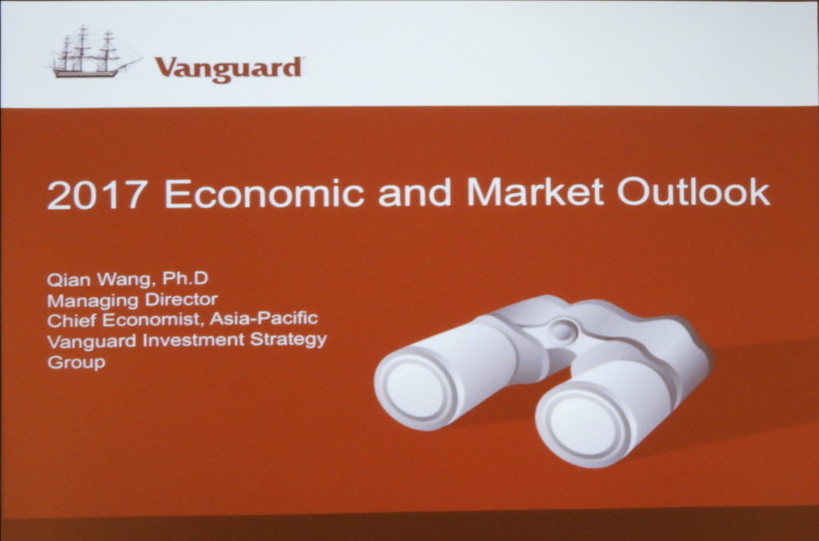 A Cyclical Uptick in 2017
2017 promises to be a year with more balanced risks and better growth than 2016 – A Cyclical Uptick as described by Dr Qian Wang.  There will be more uncertainties and volatility originating from the United States, where their foreign, fiscal and monetary risks impacts every corner of the world.
- Article continues below - Web links may be disabled on mobile for security. Please click on desktop.



In 2017, political or policy risks are going to be more than economic risks.  Therefore, the best strategy: be humble, accept many things we don't know, stay diversified and be prepared for surprises."
On China
In 2016, growth has stabilised at some cost … … while with aggressive credit expansion and fiscal spending, 2017 will be a crucial year for China.  They keyword for China is stability, and policymakers will try to make policy cushions and ammunitions to maintain the stability.
On Europe
Brexit will be very costly for the UK economy.  The impact on Europe is bigger on the political side than the economy due to the Anti-EU (European Union) sentiment.  The focus in 2017 will be the election in France and Germany.
On United States
It is expected that United States will have a a stronger 2017 compared to 2016 with 2.5% growth & inflation hitting 2.5%.  Rate hikes could be possible as Fed will take this opportunity to normalise the interest rate environment.
On Japan
Fiscal policy is at a super-high. It does not have long-lasting effect.  Government spending on investment has decline as a percentage of GDP.  The Yen being a safe-haven currency could strengthen due to the geopolitical risk and trade tension.
On Emerging Markets
Emerging markets will face significant headwinds ahead due to a higher US Dollar, China slowdown, weaker commodity demand and trade protectionism.
---
About Qian Wang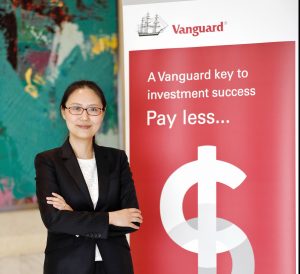 Dr. Qian Wang is Managing Director, Chief Economist, Asia-Pacific of Vanguard Investment Strategy Group. Prior to this, Dr. Wang served as the Director of Research at a sovereign wealth fund based in Asia, and the Chief China Economist and Head of Greater China macro research in JP Morgan.
In her earlier career, Dr. Wang was an assistant professor in the business school of Chinese University of Hong Kong (CUHK), and conducted empirical research in the fields of Asia and Chinese economies, international capital markets and corporate finance. Her research has been published in top-tier academic journals including Journal of Development Economics and Journal of Accounting and Economics.
Dr. Wang holds a Ph.D. in Business Administration from Stanford University, an M.A. in Economics from Duke University and a B.A. in International Economics from Beijing University.
About Vanguard Investments Asia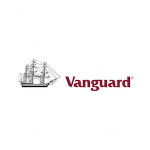 The Vanguard Group, Inc., based in Valley Forge, Pennsylvania, in the United States, is owned by the U.S.-domiciled Vanguard mutual funds, which in turn are owned by the investors in those funds. This unique U.S. mutual structure aligns Vanguard's interests with those of its investors and drives the culture, philosophy and policies throughout the Vanguard organisation worldwide, including Vanguard Investments Hong Kong Limited, Vanguard Investments Singapore Pte. Ltd. and Vanguard Investments Japan, Ltd. As a result, Asian investors benefit from Vanguard's stability and experience, low-cost investing and client focus. Globally, Vanguard manages over USD $3.9 trillion in mutual fund (as of Nov 2016), separately managed account and ETF assets. For more information about Vanguard Investments Hong Kong, visit www.vanguard.com.hk.
Managing $20 million to $3 billion. Investing $3 million to $300 million. For Investment Managers, Hedge Funds, Boutique Funds, Private Equity, Venture Capital, Professional Investors, Family Offices, Private Bankers & Advisors, sign up today. Subscribe to Caproasia and receive the latest news, data, insights & reports, events & programs daily at 2 pm. Join Events & Find Services Join Investments, Private Wealth, Family Office events in Hong Kong, Singapore, Asia-wide. Find hard-to-find $3 million to $300 million financial & investment services at The Financial Centre | TFC. Find financial, investment, private wealth, family office, real estate, luxury investments, citizenship, law firms & more.  List hard-to-find financial & private wealth services. Have a product launch? Promote a product or service? List your service at The Financial Centre | TFC. Join interviews & editorial and be featured on Caproasia.com or join Investments, Private Wealth, Family Office events. Contact us at angel@caproasia.com or mail@caproasia.com Caproasia.com | The leading source of data, research, information & resource for financial professionals, investment managers, professional investors, family offices & advisors to institutions, billionaires, UHNWs & HNWs. Covering capital markets, investments and private wealth in Asia. How do you invest $3 million to $300 million? How do you manage $20 million to $3 billion of assets?
Quick Links
2021 Data Release
2020 List of Private Banks in Hong Kong
2020 List of Private Banks in Singapore
2020 Top 10 Largest Family Office
2020 Top 10 Largest Multi-Family Offices
2020 Report: Hong Kong Private Banks & Asset Mgmt - $4.49 Trillion
2020 Report: Singapore Asset Mgmt - $3.48 Trillion AUM
For Investors | Professionals | Executives
Latest data, reports, insights, news, events & programs Everyday at 2 pm Direct to your inbox Save 2 to 8 hours per week. Organised for success
Register Below
For CEOs, Heads, Senior Management, Market Heads, Desk Heads, Financial Professionals, Investment Managers, Asset Managers, Fund Managers, Hedge Funds, Boutique Funds, Analysts, Advisors, Wealth Managers, Private Bankers, Family Offices, Investment Bankers, Private Equity, Institutional Investors, Professional Investors
Get Ahead in 60 Seconds. Join 10,000 +
Save 2 to 8 hours weekly. Organised for Success.
Sign Up / Register
Web links may be disabled on mobile for security. Please click on desktop.



---
Caproasia Users
Manage $20 million to $3 billion of assets
Invest $3 million to $300 million
Advise institutions, billionaires, UHNWs & HNWs
Caproasia Platforms | 10,000 Investors & Advisors
Monthly Roundtable & Networking
Family Office Programs
The 2023 Investment Day
28th March 2023 - Hong Kong
4th April 2023 - Singapore
April 2023 - Virtual
Sept 2023 - Hong Kong
Oct 2023 - Singapore
Oct 2023 - Hong Kong
Visit: The Investment Day | Register: Click here
Caproasia Summits
Contact Us
For Enquiries, Membership mail@caproasia.com, angel@caproasia.com For Listing, Subscription mail@caproasia.com, claire@caproasia.com For Press Release, send to: press@caproasia.com For Events & Webinars events@caproasia.com For Media Kit, Advertising, Sponsorships, Partnerships angel@caproasia.com For Research, Data, Surveys, Reports research@caproasia.com For General Enquiries mail@caproasia.com
---
Caproasia | Driving the future of Asia a financial information technology co. since 2014
---