Covering capital markets, investments & private wealth in Asia. Who are the next billionaires? When is the next IPO? Which are the fastest growing cities? Which company is going bankrupt? Join 14,000+ leading financial professionals, investment managers, professional investors and CEOs. Get the latest data, information, research and many more
---
The Insider: Exclusive Insights from Norihiro Takahashi
In an exclusive dialogue with Norihiro Takahashi, President of Japan Government Pension Investment Fund (GPIF), providing insights into the world's largest pension fund that is managing more than $1.3 Trillion assets.  
The dialogue was moderated by Mr Nicholas Kwan Director of Research of Hong Kong Trade Development Council.
The World's Largest Pension Fund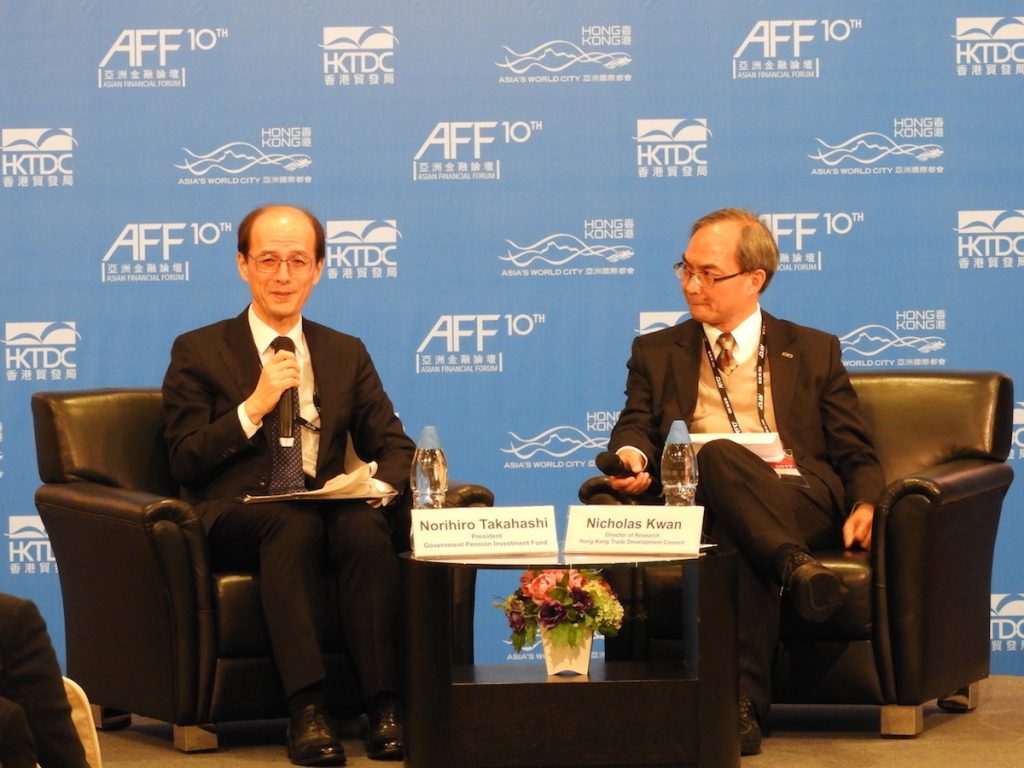 In a clear investment benchmark for the world's largest pension fund, the target rate is set at 1.7% returns above nominal rate, said President Norihiro Takahashi.

Transformation of GPIF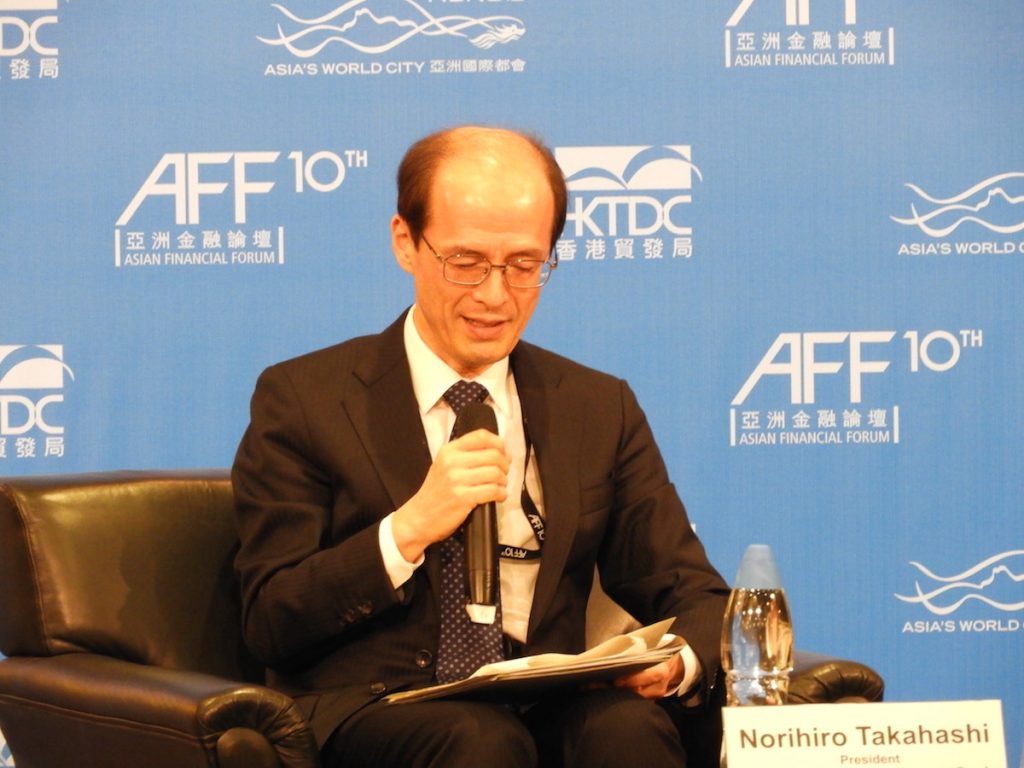 Founded in 2001, and renamed on 1st April 2006, Japan Government Pension Investment Fund replaced the Pension Welfare Service Public Organization.  GPIF is an independent administrative institution that manages and invests the Reserve Funds of the Government Pension Plans.
Since GPIF had undergone many transformation, and in recent times had also implemented a Dynamic Asset Manager Selection system, which will enhance the on-boarding and selection of Asset Managers.  This will drive efficiency in selecting the best investment managers, and allowing quick on-boarding and exits.
Growing GPIF with Best Talent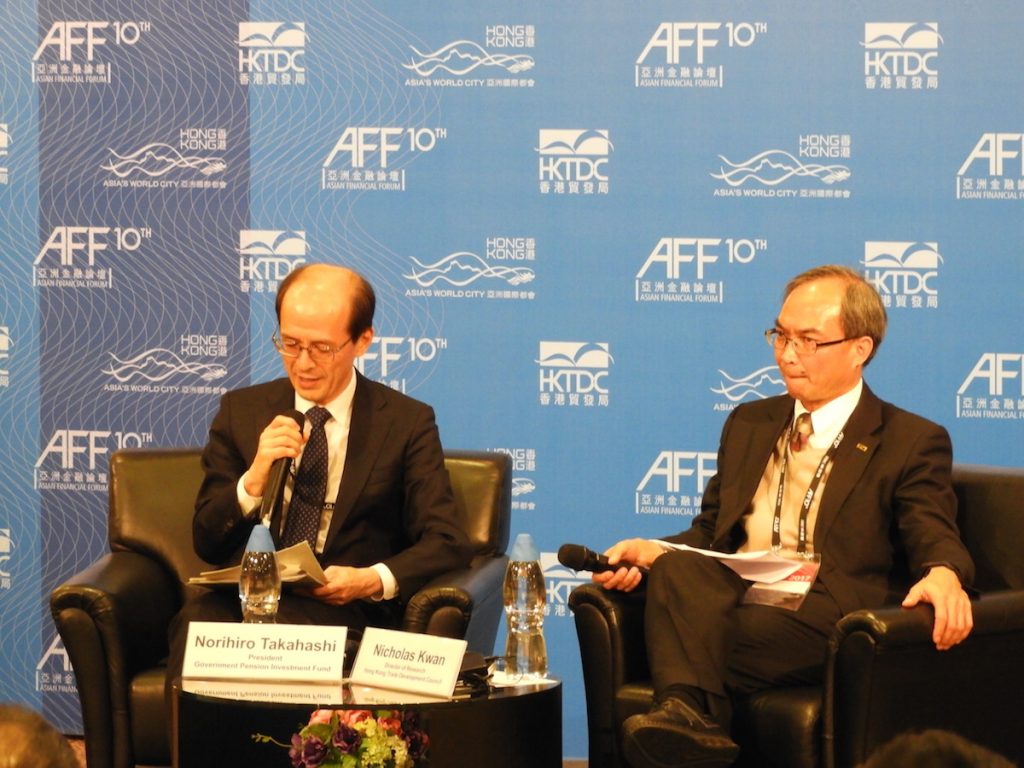 In the continuing effort to having the best professionals to manage the $1.3 trillion and growing funds, as of January 2017, more than 50 MBAs and CFAs holders are employed in the Japan Government Pension Investment Fund.
Together, the President Norihiro Takahashi and his professional analysts, associates and investment experts manage $1.3 Trillion retirement funds for 127 million population with a GDP of $4.7 trillion.  Japan is the world's 3rd largest economy, just behind United States of America and China.
Mr. Norihiro Takahashi was appointed President of Government Pension Investment Fund (GPIF) in April 2016.
More:
About Mr Norihiro Takahashi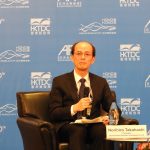 Mr. Norihiro Takahashi is the President of Government Pension Investment Fund (GPIF)since April 2016.  The mandate of the Government Pension Investment Fund is to contribute to the stability of the schemes of Employees' Pension Insurance and National Pension by managing and investing the reserve funds entrusted by the Minister of Health, Labour and Welfare and by distributing the investment return to the Pension Special Account.The value of investment assets at the end of fiscal 2015 was ¥134.7475 trillion.
Prior to his role at GPIF, he was Representative Director and President of JA Mitsui Leasing, Ltd.  Previously from 1980 to 2015, Mr. Takahashi was Senior Managing Director at The Norinchukin Bank, where he held various leadership positions in the areas of investment and management including General Manager of Credit & Alternative Investment Division, General Manager of Fixed Income Investment Division, Deputy General Manager of Corporate Planning Division and Deputy General Manager of Financial Planning & Control Division. He also served as General Manager at Nagasaki Branch of the Bank. He receives his Bachelor of Arts degree in Law from the University of Tokyo.
---
Caproasia.com is the leading financial media platform covering capital markets, investments and private wealth in Asia. Driving $25 trillion of assets in Asia. Join 14,000+ leading financial professionals and professional investors in Asia. Receive exclusive Caproasia newsletter here. Managing $20 million to $300 million? Register here: Financial Professionals
. Stay ahead of your peers & competition. Register:
Professional Investors
|
CEOs & Entrepreneurs
For press release, email to press@caproasia.com For editorial, media kit, listing on TFC, events, seminars or research & data services, email to mail@caproasia.com
---